Cast distributors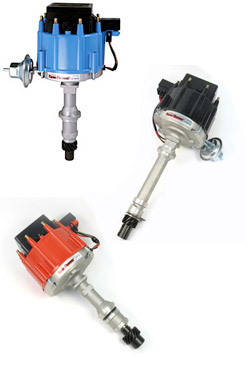 HEI DISTRIBUTORS
Experts agree that good HEI ignition systems rely on a good module and a good coil. We believe that the combination of a great module and a great coil makes our Flame-Thrower distributor the best.
We've engineered our module and coil to work together, to provide you with superior ignition performance on the street or track. Compare the Flame-Thrower High Performance Module and Coil to an original GM HEI distributor and you will find dramatic improvements, because they've been designed to work as a team to get these results.
Features
Operates without misfires up to a minimum or 7500 RPM nearly 3000 RPM higher than an original HEI
Produces 67% more energy in the coil throughout RPM range
New lightweight aluminium alloy housing
Aligned and honed high quality bronze sintered bushings for reduced friction and extended life
Centreless ground corrosion resistant shaft reduces friction and provides concentric operation
Distributor gear ground to exact tolerances for tighter mesh with camshaft. (bronze distributor gear available)
Adjustable vacuum advance and high performance advance curve
Precision machined chromoly advance weights and centre plate eliminate erratic timing
Meets stringent automobile susceptibility, vibration and shock requirements
Also available in "Race Only" version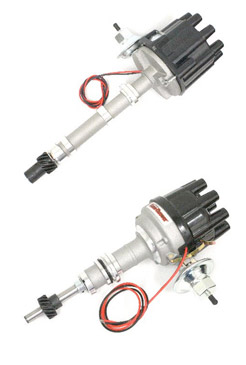 "STOCK LOOK" DISTRIBUTOR
New Flame-Thrower "Stock-Look" distributors are loaded with all the features that you would expect from a high performance part, yet maintain the original look for the ultimate "sleeper". We build our distributors with all new components not remanufactured parts like the other guys. No longer will you need to hassle with adjusting points or replacing capacitors, because our distributors are equipped with maintenance free electronics providing decades of trouble free operation.
Features
All NEW lightweight cast aluminium housing, modelled after the original Delco and Motorcraft distributors
Hardened gear ground to exact tolerances for precise cam mesh
Adjustable vacuum advance canister provides extra tunability
Optimized phasing ensures maximum energy to the spark plug
Tailored advance curve for optimal performance and drivability
Integrated electronic ignition – available with Solid-State Ignitor or the powerful Ignitor III with adjustable REV limiter
High dielectric strength cap and rotor with brass contacts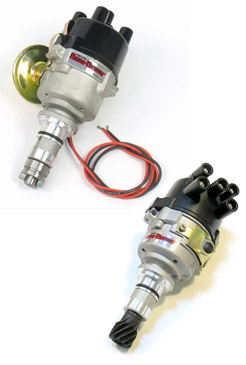 PERFORMANCE CAST DISTRIBUTORS FOR BRITISH ENGINES
Replace your worn out distributor with one that will deliver the performance you demand. Our Flame-Thrower performance distributers use all new castings which look nearly identical to the original Lucas 45D distributor. Each distributor is precision machined for an exact fit. These distributors serve as replacements for many of the original Lucas, Motorcraft or Delco equipment found in the most common classic British vehicles. Available with either Ignitor or Ignitor II electronics. Choose from a large selection of options to suit your particular engine and vehicle needs. Positive and Negative earth versions available.
Available Applications
English Ford & Lotus twin cam engines, BMC a & b engines, Jaguar, Triumph and many more.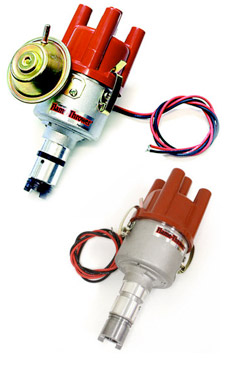 PERFORMANCE CAST DISTRIBUTORS FOR VW AND ALFA ROMEO ENGINES
Now you can get a quality distributor that delivers excellent performance and doesn't break the bank. We've taken all the features that you like about the Bosch 009 VW distributor, and the performance capabilities of the 010 and 050 distributor and designed them into our Flame-Thrower mechanical advance distributor. The vacuum advance version also has a custom tailored advance curve to suit most applications. To top things off these distributors feature integrated Ignitor or Ignitor II electronics. VW and Porsche versions also available in 6 volt.
Available Applications
Alfa Romeo engines, VW type 1 engines, Porsche 356.