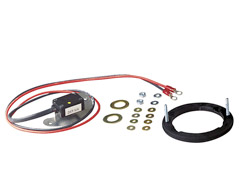 NEVER CHANGE POINTS AGAIN
Over the last 30 + years more than 3,000,000 ignitors have been sold!
Features
A solid-state electronic ignition system..."never change points again!"
Test Results show the ignitor delivers twice the voltage to the spark plugs, increasing horsepower, fuel economy and plug life
A 2:1 improvement over point type systems in current fall time for increased coil output
System is designed for use with most point-type coils, optimal performance achieved when used with our Flame-Thrower 40,000 volt coil
Electronics are moulded in epoxy, eliminating deterioration from dirt, oil, grease or moisture (better foul weather performance)
Fits entirely inside the distributor, no "black box" or wiring to clutter your engine compartment
No complicated wiring makes installation easy
Compatible with 12-volt negative ground systems (some applications available for 6-volt negative ground and 6 and 12-volt positive ground systems)
Works great in stock point-type distributors as a trigger for multi-spark CD ignitions, eliminating the need for expensive aftermarket distributors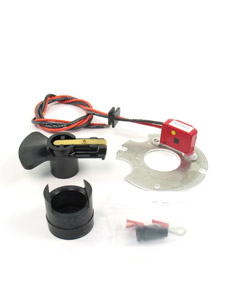 ALL THE BENEFITS OF THE ORIGINAL IGNITOR AND MORE...
Compared to points, averages 4 times more available energy between 3000 & 5000 RPM
Features
The Ignitor II senses current levels in the coil and adjusts the dwell to maintain peak energy throughout the entire RPM range. Dwell angle is increased or decreased with changing engine RPM and operating conditions. This provides more energy at high RPM, reducing misfires while improving engine performance
Compared to point-type systems, develops on average 4 times more available energy between 3000 & 5000 RPM, and 2 times more available plug voltage
Higher RPM performance is improved when used with the new Flame-Thrower II super low resistance (0.6 ohms) 45,000 volt coil, however, it is compatible with any inductive coil
Peak current level is reached just prior to spark, so ignition energy is sustained with less heat build-up, increasing coil and module life
Adjusts spark timing over entire RPM range to compensate for the inherent electronic delay, resulting in more stable timing
Senses engine startup and will increase dwell time, providing more energy for starting sparks
Senses incorrectly wired Ignitor II or a "key left on" condition and shuts down the system protecting the coil and other components from damage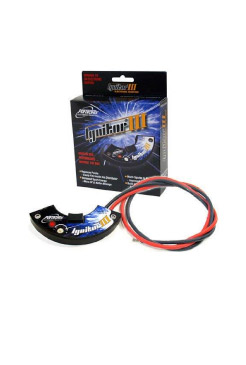 IGNITION BOX PERFORMANCE WITHOUT THE "BOX"!
Our Ignitor III ignition modules are designed for the serious performance enthusiast who demands serious power. You've seen the performance increases the Ignitor and Ignitor II series electronic ignitions have brought. Now get ready for more... 5 times more spark energy than points systems. For the maximum Ignitor III benefit, select one of our Flame-Thrower III or HC ignition coils.
Features
Multiple Sparks throughout entire RPM range
Integrated digital REV limiter with LED feedback for precise RPM setting
Memory safe function stores settings eliminating unintended changes to Rev limit
Adaptive dwell maintains peak energy throughout the entire RPM range, reducing misfires while improving engine performance
Peak current level is reached just prior to spark for maximum energy without heat build-up, increasing coil performance and module reliability
Adjusts spark timing at higher RPM's to compensate for the inherent electronic delay
Senses startup and increases energy for quicker, easier starting
Thermal clad surface mount construction for superior reliability
Built-in reverse polarity and over current protection shuts down the system, preventing component damage
Not compatible with CD or Multi-Spark boxes